NUBRA VALLEY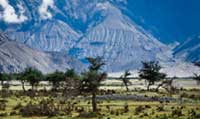 Nubra valley
is another beautiful valley located in the cold desert Ladakh. It is a valley of great natural beauty. It is popularly known as the "Valley of Flowers" for the fact that several varieties of colourful flowers grow in the valley. The valley is situated at a distance of 150 km north of Leh at the confluence Point of River and the Shoyok River. It is located close to the famous Siachin Glacier, at an altitude of a stunning 10,000ft. The valley is one of the most popular tourist places of Ladakh. There are a number of sightseeing spots and religious centres.Nubra valley is a wide flat valley, with labyrinthine winding channels of Shyok Rivers.
Nubra Valley seems dry and parched from a distance, but it is one of the rare fertile areas in Ladakh and is a major farming area of this desert. Flowers, apples, apricots, barley, orange berries and many other fruits and vegetables are grown here.
There are various ancient monasteries and ruined palaces in the valley that are interesting. The villages are located close together and make it a nice walking place. Samstanling Monastery near the valley is a popular attraction here. It is famous for its hot springs. Ensa Gompa, Diskit monastery, Chamba Gompa, Baigdanduare the popular tourist attractions of Nubra Valley. You may also get a chance to see the Bactarian camels, the shaggy double humped camels.
Famous Pashmina shawls, made up of the wool obtained from the goats are also found here.
The road to Nubra Valley from Leh goes through the highest motor able pass in the world, Khardung la. The pass is covered in permafrost even in summers and the roads organisation here does a great job in keeping the pass open in winter and autumn. However, a permit is needed for the non-locals to cross Khardong la. The permit can be obtained from the DC office in Leh. Keep photocopies of the permit as they will be needed on both sides of the pass and also at the bridge to Sumur.
The best time to visit the splendid valley is between July and September, as the area remains almost inaccessible during the rest of the year. The nearest airport is in Leh. Alternatively you can book a flight for Srinagar from where you can get a bus for Leh or also a flight.