SKIING IN KASHMIR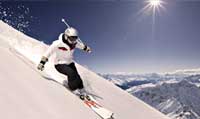 Kashmir is a place "where sun shines mildly". It is a cool place with a perfect climate. Winters here are chilling and it receives a heavy snowfall. Besides there are a lot of mountains in the valley, as it lies in the lap of the mighty Himalayan range. All this creates ample opportunities for skiing and other winter and mountain sports in Kashmir.
The most famous ski resort of the valley lies in north Kashmir. Gulmarg ski resort has been rated as one of the top five resorts of the world. Gulmarg is the most famous and most visited hill station in the entire state of Jammu and Kashmir. Skiing in Gulmarg is a wonderful experience. Skiing in Kashmir, coupled with the outstanding natural beauty and a unique hospitality makes it one of the best and most memorable experiences of the world. Apart from Gulmarg, there are skiing opportunities in Pahalgam and Sonamarg also. However, the best place for skiing is Gulmarg.
Gulmarg is an '8' shaped meadow bowl. The place receives some of the heaviest snowfall of the season beginning in December till the end of April. In winters the meadow gets covered with snow and gets converted into baby slopes. These slopes are perfect for the beginners and amateurs to ski on. The bowl can accommodate over a thousand skiers at a time and hence is a perfect place to be for anyone. For intermediates and the skilled sports man, the slopes in the higher mountains are ideal to ski on.
Mountains in the upper reaches of Gulmarg have slopes that are at par with the international standards. Khilanmarg, Apharwat and Alpatthar mountains have quality slopes and a soft curry powder from the heavens, which gives you a cushioned feel under your skis. The slopes are difficult to ski on and needs a lot of skill and determination. Skiing here is an ultimate experience. The higher mountains are accessible through the world's second highest cable car, Gondola, which makes the experience even more wonderful. Heli-skiing is also available.
Gulmarg is an internationally recognised winter sports destination. An international sports event was held here a few years ago and championships are consistently being organised here. The local government along with the local population is putting in a lot of effort to make it the world's top ski destination. Apart from skiing you can also enjoy other winter sports, like ice-skating, ice hockey and a lot more.
The ideal time to visit Kashmir for skiing will be somewhere between December and March. Global warming has limited the duration of otherwise a long period. During this period the place gets a soft and heavy snowfall and the place gets painted fascinatingly white. Training and gear is available readily. The weather is really cold, so warm clothes are a must. If you are looking to ski for fun, or is your passion, Gulmarg in Kashmir is the place for you. Don't miss the fun.
Rock climbing has been introduced recently in the valley and not many companies deal with climbers. So, you may have a hard time while finding equipment for your adventure. It will be wise to bring all your necessary equipment along with you. Other daily and routine items are readily available.
For further information please
contact us
.