ZANASKAR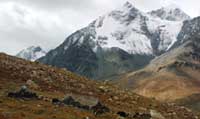 Zanaskar has been recently introduced in the Ladakh tourist map. It is the most isolated of all the Himalayan valleys. The district is located across the Panzilla top, at a distance of about 20 km from Rangdum. Area derives its name from the Zanaskar River, which is the major tributary of the Indus River and flows across the valley. The river extends from Padam to Zangla and runs a long course through many beautiful gorges along the
Zanskar mountain ranges
and finally joins the Indus.
The valley is a beautiful valley bordered by high mountain ranges. There are many scenic spots, monasteries and historical places in the valley. Panzil La Top is one of the most beautiful places in province. It is bordered by snow-dressed mountains with two lakes running along them to provide a stunning look to the place. Drang-Drung glacier is also visible from here.
Zanaskar has become a favourite destination for tourists and adventure lovers. Several important monasteries are located in the region. Karha Gompa is a 16th century monastery located in Zanaskar. Karsha is the largest and richest monastery of the region. Other monasteries include Sani and Stongday.
Zanaskar River is the main attraction of the valley. It is one of the most favoured rivers for rafting in summers. . It is one of the most favoured rivers for rafting in summers. This river has a tremendous historical significance. Valley remains cut off from the rest of the world for nearly eight months. However, when all the conventional routes get closed, one unconventional route opens for movement, that provides a link to the rest of the world. In winters, the fast and the furious waters of the Zanaskar River freeze completely, which, then, is used by the people to link with other areas of the region. In the past this route was used for the trade during winters. However, now the frozen River is used for trekking by adventure lovers.
The trek on the frozen River is very famous and is the ultimate trekking experience. Trekkers from all over the world come to Zanaskar in winter to tread upon the frozen river. This trek is generally called the
Chadar Trek
.
Zanaskar has been a recent addition to the tourist map of Ladakh. Accordingly, facilities have been made to accommodate the tourists and provide them top quality service. The local population is very friendly, hospitable and warm hearted. In the past the local population provided lodgings to the tourists and served them very well. Now hotels and other means of accommodation have come up in the region.