Chadar Trek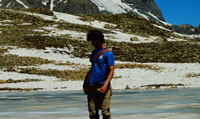 Winter trek is one of the prime reasons for the fame of the tiny kingdom of Zanskar. In winter Zanskar is essentially cut off. Nonetheless, every February, intrepidtravelers returning from their winter break arrive here on the unique
Chadar Trek
. Much of the route is along thefrozen Zanskar River, crossing sidestreams on precarious snow-bridgesand camping in rock caves en route. The frozen Zanskar has been a traditional alternate route for the people of Zanskar to connect to the rest of the world in winters, when all the other routes get closed due to heavy snowfall. The miraculous freezing of the fierce waters of the river, with even waterfalls hanging in shape of monstrous icicles is simply wonderful. This fascinating fact of the Chadar trek is the prime reason that it attracts many fearless explorers from all over the world to tread on the frozen waters of the river.
There are winter trailslinking the Zanskar Valley with the Indus. From late January through February, villagersfollow the route over the snow bridgesthat form in the depths of the gorges. Whenthe ice begins to thaw, they follow a routeover the Cha Cha La to the Khurna Valleyand then hike down to its confluence withthe Zanskar River. Here, there are placesto ford the Zanskar River to reach Nimmuand Leh. The locals favor this route in thespring, until the snows on the Pensi Labegin to thaw in May.This traditional winter link route is now being used more for hiking and has been named as
Chadar trek
. This is one of the most challenging journeys in Ladakh.
An opportunity to follow remote trails through deep gorges and over high passes (including four in the vicinity of 5000m) linking Zanskar with the outlying settlements of the Indus Valley. The remote trails and the absence of villages between Zangla and the Markha Valley deter all but the most adventurous explorers.
Chadar trek in Zanskar is one of the most thrilling and challenging hikes of the world. You need to know where to tread and where not to tread. There are places where the ice is soft and you need to go to the nearest bank and get down again where the ice is hard. The hike is not for amateurs and certainly not for weak heart people. Although there are no high-altitude stages, the hike still is one of the most challenging hikes here. With all these things
Chadar trek
also becomes one of the most beautiful trekking experience in the world.
Package Includes

Transportation
Meals
Hotel
Food during the transit
Mules or porter to carry personal luggage
Note

Room category in all packages is the based tour Type.
In case Kashmir Travels is not able to provide the same hotels as mentioned, then we shall provide similar alternate properties, change in the cost if any will be advised.
No need to surf Multiple Sites for Kashmir travels trek packages, quotes, travel plans! Simply fill the booking form and Get up to 4 budget quotes in your MAILBOX.
We will go the extra mile to facilitate your booking. Whether you have a sports team, school group and band. Best Price Guaranteed.
Discover Amazing packages! Get Started Now.