SHIKARA RIDE IN DAl LAKE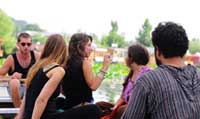 A shikara ride is the most relaxing and soothing aspect of holidaying in Kashmir. Shikaratrips and the houseboats in Srinagar's water bodies is the quintessential reason why many people come to Kashmir. it is the most romantic aspect of a Kashmir tour also. Each boat is a flat bottomed boat with a cloth canopy. Shikaras ply on all the major lakes in Srinagar – Dal Lake, Manasbal Lake, Nigeen Lake, Wullar Lake and on River Jhelum as well. However, most of the people prefer a drive over the calm waters of the Dal Lake due to a lot of reasons.
Boat ride in Dal Lake is a delight. The shikara boats are very comfortable and decorated. A drive on the Dal Lake will take you to a different world altogether. Once you step into the interiors of the lake, you will realize that it is not just a lake, but a world of sorts, which brims with life and activity. A simple glide over pristine waters is always a wonderful experience. When this gets coupled with some most fascinating things, it becomes the supreme pleasure one can have.
Inside the Dal, you would see a new life; a lot of people, who derive their livelihood from water, live inside it. They share their happiness and their sorrows, enjoy and suffer, laugh and cry on the water. They have a full-fledged market, which is called floating market. Floating vegetable gardens are even more amazing. The biggest vegetable market of the valley is set up in the interiors of the Dal Lake early morning.
As far as the beauty of the Dal is concerned, it is no less than any other place of the beautiful valley. The water of the lake is crystal and scintillating. The lake lies at the foot of the Zabarwan hills, which provide it a stunning backdrop. On the other bank is located the most revered shrine of Kashmir, Hazratbal, which, with its beautiful architecture, dominates the view of the lake. Floating gardens, Char Chinar, KabutarKhana, Bathing Boats, Golden Lake, Lotus Garden, Soneh Lank and many more things make your shikara ride a delightful experience. Needless now to say, if you miss boattrip in Dal lake, you are going to miss a lot you shouldn't.
Shikara ride on other lakes is also fascinating. Nagin Lake and Manasbal Lake also have some beautiful spots that are accessible by boats only. The scenery around all the lakes is breath-taking. Don't erupt in joy unless you put yourself in danger. The boatman are very experienced, however to catch the true essence of the rhythmic glide on water, to be calm and relaxed is the best way. Shikaras also ply on River Jhelum, but only for a water trek, that takes you down the old city and to some ancient historic places of the Valley.