Kargil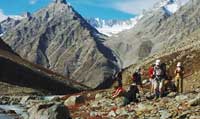 Kargil the second largest town of Ladakh division. It lies on the border between India and Pakistan. Parts of it are under the control of Pakistan. The town is situated at a distance of 204 Km from Srinagar and 234 Km from Leh. It is located midway between the two cities, on the
Srinagar-Leh highway
. Kargil served as a nerve centre for trade and transit for the Central Asian merchants in the past, because of its unique equidistant location from Srinagar and Leh.
Kargil is also a favoured tourist destination of the state. The place lies perched along the valley formed by the confluence of River Suru and Wakha-chhu, its tributary. The land is nicely terraced and cultivated for barley, peas, wheat, other cereals and a variety of vegetables. Poplars, willows, apricot, apple and mulberry orchards against the backdrop of beautiful mountains embellish the place. Kargil is particularly famous for its apricot blossoms during springs and in autumn the ripe fruits paint the entire place orange.
Kargil is also a popular tourist destination, more for its opportunities of adventure sports and its monasteries than its landscape. Mulbek is a famous tourist destination in Kargil. It is located at a distance of 45 km and is famous for its Buddhist monuments. An ancient sculpture of Buddha Maitreya, 9 metres high made of stone is also situated nearby on the highway MulbekChamba. There are several cave monasteries and Buddhist nunneries in the village of Shergol.
Zanaskar, a sub-district of Kargil is also a very popular tourist destination. It is famous for its monasteries like Kasha Monastery, ZongkhulMonastery, Stongday monastery etc. Zanaskar remains cut off from rest of the Division for eight months due to heavy snowfall. It is also famous for the frozen river trek. Suru Valley is another popular place, famous for the Drang-Drung glacier.
The province is an important base for adventure sports. The place is located in the lap of the Himalayas and this makes it an ideal destination for adventure tourism. It is also the overnight halt point for travellers travelling from Srinagar to Leh. The climate is cool throughout the year. The best time to visit the region is the summer months which extend from April to September.
Kargil is well connected by roads and regular buses are available from the Tourist Reception Centre in Srinagar. The place is equidistant from Srinagar and Leh and hence there is an option of flying to Leh or Srinagar, from where you can travel to Kargil by bus. Accommodation is readily available in Hotels, guest houses or circuit houses.