Doodhpathri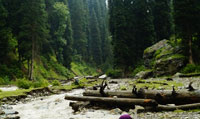 Away from the trammels of mundane, Doodhpathri is abode to crystal-clear flowing water, sky-kissing pine trees and fresh air. This bowl-shaped valley is located at 8957 ft altitude from the sea level. The place gets its name on the grounds of its cold milky water. It is also believed to be linked to a folk tale of a famous Kashmiri saint, Sheikh Noor din Noorani who is said to have cast about the place for water in order to ablute himself for praying. However, when he started to prick the ground, it gushed forth milk instead of water. But the milk upon hearing his words that it can only be used for drinking and not cleansing, changed into water. So, this is how the place was named. Some also say that Doodhpathri gets its name from the rich cattle milk production in the area, it is named so. From the velvety emerald meadows and the snow capped summits which loom as the backdrop; every aspect and topographical feature of this spot is jaw-dropping.
The towering conifers, pearly milky water, fresh and crisp air, smooth scattered pebbles, sloping jagged and lush landscapes; all delight you and compel you to plumb in the depths of such charismatic views. The valley abounds in multi-colored flowers including forget-me-nots, daisies and buttercups. Doodhpathri has been used by nomads for ages. We can still witness the mud houses of the inhabitants known as "Kotha". It is a great place for Instagram enthusiasts and those who love photography. The place can also be visited for camping and trekking. The roads which pass through the forest have been macadamized now and more hotels are being constructed. You will witness a lot of ponies around in Doodhpathri and can even take a pony ride too. There are also some beautiful places in the vicinity which you can visit:
YOUSMARG: Four kilometres away from Doodhphatri, Yousmarg or Meadows of Jesus is the jewel of Budgam, District. It is abode to jaw-dropping locales. It mesmerises everyone with its scenic topography. One can take horse rides here and the shepherds owning the ponies comparatively charge lesser than other spots. The prominent attractions of the region include Sang-e-Safed, Tosa Maidan and Charari Sharief.
PALMAIDAN: The name "Palmaidan" translates to the 'plain of big stones.' The place has a complete rustic air to it with shepherds and cattle. It is surrounded by towering deodar and pine trees and the huge rocks are scattered all over the place which gets its name.
TAGNAR: A jaw-dropping beauty with small vales, it is located about 2 kilometres from Doodhphatri.
MUJHPATHRI: The name "Mujhpathri" translates to 'Valley of Turnips'. It is beautiful hamlet located on the banks of Shaliganga and 3 km away from Doodhpathri.
DISHKAL: A breathtaking meadow, overlooking the Ashtaar Glacier stands this place. The place is great for trekking enthusiasts. One can head here from Shaliganga stream at Doodhpatri by a 10km trek.
WHAT CAN YOU GET TO EAT?
The shepherds of Doodhpathri who live in huts sell Noon chai( Kashmiri tea) with Makki roti (Maize flour flatbread) or Lavasa, one more type of flatbread. In addition to it, small stalls have been installed to serve a famous sweet Kashmiri beverage called Kehwa. There are also some local shops where you can get snacks.
WEATHER:
Dhoodhpathri has clement weather during summers and frigid in winters. Sometimes, the area remains inaccessible in winters due to heavy snowfall. The best season to visit Doodhpathri is Spring and Summer i.e, from May to September.
HOW CAN YOU REACH?
BY ROAD:
Nowadays, Doodhpathri has good thoroughfare. Starting from Srinagar, you can easily reach Doodhpathri via Budgam and Khansahib.
BY TRAIN:
Srinagar railway station is the closest rail head.
BY AIR:
Srinagar airport is the nearest airport to reach Doodhpathri. From the airport, our representative will pick you up.
ONE DAY ITINERARY FROM SRINAGAR TO DOODHPATHRI:
You will be welcomed by a Kashmir Travels representative at the Srinagar Airport.
Have a sumptuous breakfast at Srinagar.
Get ready to get mesmerized in this Valley of Milk.
Head to Doodhpathri which is 42 km from Srinagar.
After enjoying the melodious gurgling water and emerald landscape proceed towards Yousmarg which is about 4km away from Doodhpathri.
Enjoy a pony ride there.
Get back to Srinagar.
Overnight stay at Srinagar.
Weather of the place remains moderate. The best time to visit is during the spring and summer months from May to September. The place is primarily for sightseeing as it has not been developed completely as yet.