Doodhpathri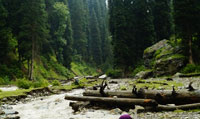 Yet another recently developed beautiful place of the Paradise Kashmir is Doodhpathri, located in the Budgam district. The region is literally meaning valley of milk is a beautiful resort with carpet like meadows. It is located about 42 km from Srinagar. The area is rich in the production of milk, hence the name "Doodhpathri". It is also believed that the cattle who graze in the meadows of this place give a large quantity of milk and that is why it is called DoodhPathri.
Doodhpathri
is a beautiful meadow with emerald grass that looks like a green carpet. A beautiful river dancing and reverberating with the wind flows in the middle of the meadow, lending it a splendid charm and vibrancy. The place looks very beautiful and pleasant. The green grass under the feet is really wonderful.
Doodhpathri however is a recent inclusion in the Jammu Kashmir tourist map. This is the reason that the place is not overcrowded and not many tourists visit here. However, it has become a real hit among the local population, who find it a welcome step. The road from Khansahib area in Badgam to the
Doodhpathri
is not in a good condition. There is not a full-fledged market or any hotel in the area, so the trip is always going to last for a day only and you need to pack your lunch. Tea and snacks are available in the shops run by local people.
Travelling to the area can be hectic, but the place is worth the trouble. The local government is taking steps on fast track basis to make the access easier and comfortable. Work is going on to connect Doodhpathri with all the concrete roads. Once completed, it is believed that the place will be at no. 3 of the most preferred tourist destinations of the valley.
As already mentioned, travelling can be hectic. You need to take a bus to Budgam from Lalchowk Srinagar, from where you can catch a vehicle to Khansahib. From Khansahib stand you can get a cab for Doodhpathri. Alternatively if you come to Kashmir by Air, you can take the bus to Budgam from Humhama area, just two kilometres from the Airport.
Weather of the place remains moderate. The best time to visit is during the spring and summer months from May to September. The place is primarily for sightseeing as it has not been developed completely as yet.