JAMMU KASHMIR RIVERS AND LAKES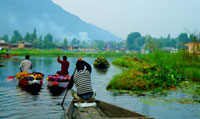 Jammu Kashmir is a beautiful place situated in the lap of the mighty Himalayas. It abounds in mountains. Some of the World's highest mountain peaks and mountain ranges are located in the area. The overall climate and the temperature are moderate. The place receives some of the heaviest snowfall. Many enormous glaciers are present in the area. Under such conditions, it is obvious that the state will be abounding with numerous water bodies.
Jammu Kashmir is known for its clean and crystal water bodies. Many rivers and lakes that originate from the glaciers in the mountains flow in the area. Due to the presence of many lakes and rivers, it has assumed the name of 'Venice of the East'.
River Ravi, River Chenab, River Tawi, River Ujh in Jammu, River Jhelum in Kashmir, Indus River, Kishan Ganga River, Zanskar River, Suru River, Nubra River in Ladakh are some of the major rivers that flow in the state. People enjoy River rafting, water trekking or boat rides on the waters of these beautiful rivers. The rivers are calm at places and fast, furious and turbulent at other places.
Apart from these rivers many lakes adorn the already beautiful land. The lakes are extremely beautiful, clear and scintillating. Most of the lakes originate from the glaciers and are placed at a high altitude. The colour of the lakes depends on the time of the day. The lakes in the state include Mansar Lake, Surinsar Lake, Sanasar Lakein Jammu, Wullar Lake, Dal Lake, Manasbal Lake, Anchar Lake, Kounsarnag Lake, Gangabal Lake, Sheeshnag Lake, Neelnag Lake, Tarsar Lake, Hokarsar Lake, Kishansar Lake, Vishansar Lake, Gadsar Lake in Kashmir, Pangong Lake, Tsomoriri Lake, Ruphsu Lake, Tso Kyaghar Lake, Pangore Lake in Ladakh.
Besides this Kashmir valley is famous for numerous springs that flow through the length and breadth of the valley. Some famous springs are Achabal, Martand, Verinag, Kokarnag, Chashma Shahi, Khir Bhawani, Alpathar, Sukhnag, Harmukha Ganga, Vasuknag, Anantnag, Malakhnag and many more.