LADAKH TREKKING ROUTES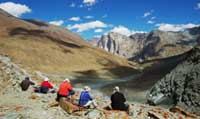 There are numerous
trekking routes in Ladakh
. These paths are filled with tremendous challenges and excitement. There are hikes available for beginners as well. Ladakh Himalayan Hike can be one of the dream expeditions for any sort of trekkers. The challenge and excitement of the Ladakh trek directions makes it an ideal destination for trekking and other adventurous activities.
JEEP SAFARI IN LADAKH

LEH - KHARDONG-LA - KHALSAR- DISKIT - HUNDER- LEH ...7 Days JEEP/CAR SAFARI
LEH - KHALSE - TIRIT - SKURBUCHAN - HANUDO - B1AMA-LEH ...7 Days JEEP SAFARI
LEH - KARU - CHANGLA - DURBUK - TANGTSE - LUKUNG - SPANGMIK - PANGONG ISO (Lake) ...7 Days)JEEP SAFARI
THE MARKHA VALLEY
The beautiful Markha Valley runs parallel with the Indus on the far southern side ofthe snowy Stok-Kangri massif, visible from Leh. Passing through cultivated valleyfloors, undulating high-altitude grassland and snow-prone passes, the winding trail along it enables trekkers to experience life in a roadless region without having to hikefor weeks into the wilderness – as a result, it has become the most frequented of Ladakh trekking routes. Snow flurries sweep across the higher reaches of the Markha Valley even in August.
PADUM TO LAMAYURU
The trek across the rugged Zanskar Range from Padum to Lamayuru on theSrinagar–Leh highway, usually completed in ten to twelve days, is a hugely popularbut very demanding long-distance way.Padam has numerous directions and is one of the most visited places in Ladakh. The place abounds hugely in the number of Ladakh trekking routes.
LAMAYURU TO ALCHI
Albeit short by Ladakhi standards, the five-day trek from Lamayuru to Alchi is oneof the toughest in the region, winding across high passes and a tangle of isolatedvalleys past a couple of ancient Gompas, and offering superb panoramic views of the wilderness south of the Indus Valley. It's very hard to follow in places, so don'tattempt it without an experienced guide, ponies and enough provisions to tide you over if you lose your way. It is one of the most difficult among all the Ladakh trekking directions.
LIKKIR TO TEMISGANG
A memorable road along the old caravan route through the hills between Likkir and Temisgang makes a leisurely two-day hike, which takes in three major monasteries (Likkir, Rhizong and Temisgang) and a string of idyllic villages. It's a great introduction to trekking in Ladakh, the perfect acclimatizer if you plan to attempt any longer and more demanding routes.
LADAKH TREKKING ROUTES

MANALI (2050 M) - DARCHA (3400 M) - BARALACHA-LA (4650 M) - PHIRTE-LA (5450 M) - PADAM (3650 M)... 11 to 12 Days
MANALI (2050 M) - DARCHA (3400 M) - SHINGO-LA (5090 M) - PADAM (3650 M) ... 9 Days
PADAM (3650 M) - THONGDE-LA (5490 M) - PHUKTAL - PURNE - PADAM (3650 M) 7 Days' Round Trip
PADAM (3650 M) - THONGDE (3450 M) - ZANGLA - KARSHA GOMPA - PADAM (3650 M) ... 4 Days Round Trip
HEMIS - DARCHA (3400 M) - (via) RUPSHU ... 11 Days (This Trekking Route lies in Prohibited Area)
HEMIS - PADAM (3650 M) - (via) JUMLAM ... 10 Days
RINGDOM - KHALSE (via) KANJI-LA ... 6 Days
LAMAYURU - ALCHI (via) TAR-LA (5250 M) ... 4 Days
LAMAYURU - STOK ... 6 Days
LIKIR- KHALSE ... 3 Days
STOK - HEMIS (via) MARKHA VALLEY ...8 Days
Trekking in Nubra Valley LEH - SABU - DIGAR - LABAB - KHUNGRU - TANGAR ...7 Days
PADAM (3650 M) - LAMAYURU ... 10 Days